PHOTO BOOTH INFORMATION
---
About the booth
The Smile Lab is an open-air photo booth. Unlike traditional photo booths where you squeeze onto a tiny bench behind a curtain, the open-air setup allows you to fit as many friends in front of our fun backdrop and into the picture as you like! After launching our original photo booth tower design in 2014, we are excited to present The Smile Lab 3.0, an even sleeker, more compact, and very mobile housing unit which we have perfected for all our photo booth magic. Our top-of-the-line equipment setup comes complete with a touch-screen interface where you simply press a button, then pose. No messy cords, no bulky equipment. Just a cute and clean, easy-to-use contraption filled with picture-taking magic. Here are a couple of behind-the-scenes pictures and a fun mini-clip from our Instagram feed that will help you to get a better idea of what The Smile Lab looks like and how it operates. Follow us on Instagram for more! @thesmilelab

Be sure to read the BOOTH REQUIREMENTS at the bottom of this page to find out what we need to set The Smile Lab up at your event.
---
Backdrop Options
We stock a limited number of backdrops which you can choose from (see our current options here). Or you are free to use or create your own backdrop. We recommend a minimum size of 5 feet wide x 4 feet high, larger is better to best suit the photo prints. If you require our stand to hang your backdrop, please ensure that you are using lightweight materials to create your backdrop. Photo booth setup works best in an area where the backdrop can be placed against a wall.
---
Photo Strip Layout:
Each trip to the photo booth will print two copies of a vertical photo strip (2″ x 6″) showing your four poses, with a footer for any text you want displayed, i.e. "Happy Birthday Mila! 04/24/22″. Please bear in mind that the area for text is only 2″ x 5/8". Any requests for custom fonts must be accompanied by a font file (.ttf) emailed to us.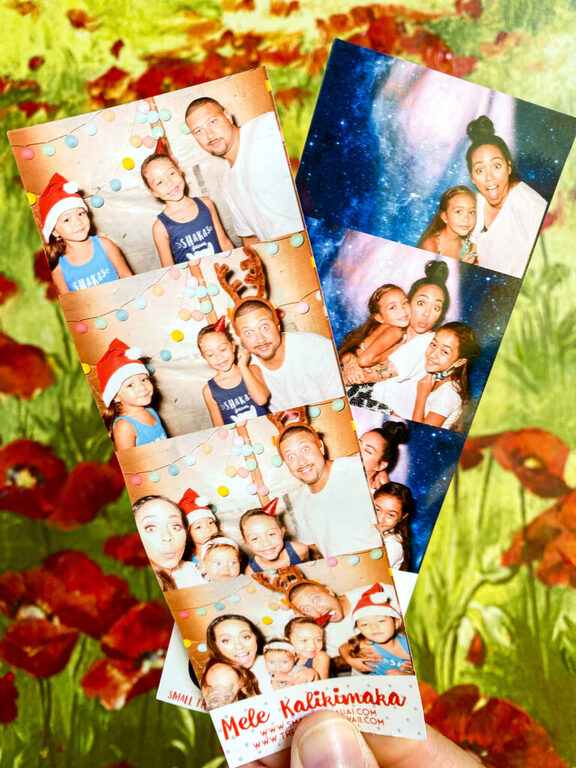 ---
Booth Requirements:
Operation of The Smile Lab requires: a physical space measuring at least 10 feet by 10 feet. The booth and prop table must be covered and protected from the weather, either by a tent or roof, with mid- to low-level lighting for night-time events. (We can provide a white pop-up tent and lighting, with a setup fee of $100.) It works well if the booth is setup on level ground and our backdrop frame can be set against a wall. We need close proximity or reasonable access to a power outlet.
We require approximately 60-90 minutes for setup and testing. Earlier access to your party site is always better.
After your booking has been confirmed via our online booking agreement, please complete our event questionnaire, below. This questionnaire allows us to plan for your party, and we ask that you complete it and submit at least one week prior to the event date.